About Us
---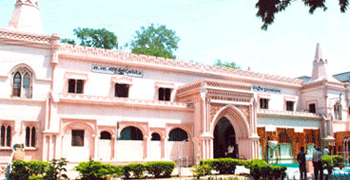 S.N. Medical College, Agra, named after the first lady Governess of Uttar Pradesh, poetess and freedom fighter, Bharat Kokila Smt. Sarojini Naidu, is situated in the heart of Agra, the famous old city of the Taj Mahal. It is one of the first three Medical Schools of the country.
For Agra Medical School, the year 1939 was a year of achievement. With a view to meet the growing demand for qualified doctors in the then United Provinces, the status of Agra Medical School was upgraded to that of a full fledged Medical College affiliated to the Agra University for the award of M.B.B.S. degree.
Today, this college has completed over 60 years of its useful existence dedicated to the cause of Medical Education and Research and in the service of suffering humanity the college motto being 'LIVE TO SERVE'.
This college, soon after its inception, was recognized by the Medical Council of India and the General Medical Council of Great Britain. The first of M.B.B.S. doctors passed out in the year 1944. The hospital attached to the Agra Medical School since 1854 was known as the Thompson Hospital. With the elevation of Agra Medical School to S. N. Medical College, the Thompson Hospital was also rechristened as S.N. Hospital.