Courses
---
Medical Courses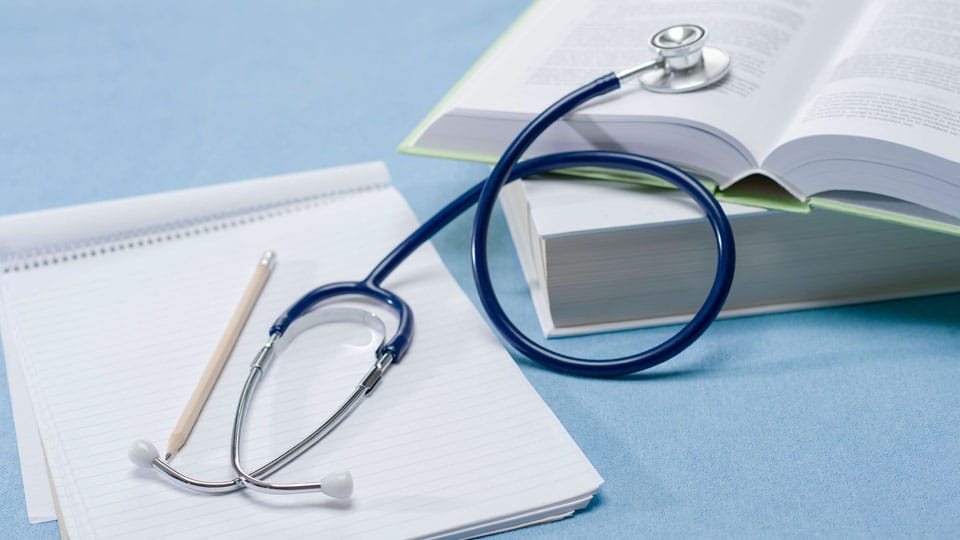 For MBBS degree, each year total of 123 students are enrolled in the Medical College, in fixed atio from Uttar Pradesh and All India Entrance Examinations. The graduate course is spread over four and half cademic years divided into three phrases.
Pre-Clinical Phase One year
Para-Clinical Phase One and half year
Clinical Phase Two years
Pre-Clinical Phase
Duration is one year (I & II Semesters). During this period students are taught subjects ofAnatomy,Physiology and Biochemistry. Students are also introduced to Community medicine. Examination is held in Anatomy, Physiology and Biochemistry. On clearing all the three subjects the students enter the Para-clinical phase
Para-Clinic Phase
Duration is one and half years (Semester III to V). This period entails the subjects of Pathology, Microbiology, Pharmaclogy, Forensic Medicine & Toxicology and Social & Preventive Medicine / Community Medicine. After clearing all these subjects in the University Examination (II Prof.) students can appear in next University examination i.e. final Prof-Part I.
Clinic Phase
Duration is two academic year after II professional examin-ation. During this period the subjects like Orthopaedics, Opthalom-ology, E.N.T., Community Medicine, Medicine, Surgery, Obstetrics & Gynaecology and Paediatrics are being taught. The concurrent phase is important in the basic understanding of Clinical subjects. The university examination are conducted in two phases i.e. part I & part II , The teaching and training requirement includes all aspects of patient care and Health. Final Prof- part I examination includes first three subjects and next four subjects are considered in Final Prof-part II exams.
Intership
On successful completion of graduate course, all students have to undertake one year's rotatary internship. The students are awarded the M.B.B.S degree only after satisfactory completion of internship. The internship programme is aimed at providing practical training in patient-care and health care of community. Students are required to maintain internship diary, which is required to be signed by Medical Officer in charge and Head of the Department. Duly signed internship diary is to be submitted before the internship certificate is issued.
Post Graduate Courses Provided In S N Medical College
S.No.
Departments
Courses
Sanctioned seats
Total Seats
AIPG
UPPG
1.
Non clinical departments
1.1.
Human Anatomy
MS (3 years)
0
2
2
1.2.
Biochemistry
-
-
-
1.3.
Forensic Medicine
MS (3 years)
0
1
1
1.4.
Pharmacology
MS (3 years)
0
2
2
1.5.
Pharmacy
Diploma
-
-
-
1.6.
Human Physiology
MS (3 years)
1
1
2
2. Para clinical departments
2.1.
Microbiology
MD (3 years)
-
-
-
2.2.
Pathology
MD (3 years)
1
6
7
2.3
SPM
MD (3 years)
1
2
3
3. Clinical departments
3.1
Anesthesiology
MD (3 years), DA (2 years)
1, -
6, -
7, -
3.2
Cardiology
DM (proposed)
-
-
-
3.3
Dental surgery
-
-
-
-
3.4
Skin & VD
MD (3 years)*, DVD (2 years)*
1, 0
1, 1
2, 1
3.5
Medicine
MD (3 years)
3
11
14
3.6
Nuclear Medicine
-
-
-
-
3.7
Obstetrics Gynecology
MS (3 years), DGO (2 years)
2, 2
5, 4
7, 6
3.8
Ophthalmology
MS (3 years), DOMS (2 years)
2, -
3, -
5, -
3.9
ENT
MS (3 years), DLO (2 years)*
-, 1
-, 1
-, 2
3.10
Pediatrics
MD (3 years), DCH (2 years)
2, 1
4, 5
6, 6
3.11
Psychiatry
MD (3 yrs), Dip. Clin. Psychiatry (2 yrs)
0, -
2, -
2, -
3.12
Radio diagnosis
MD (3 years), DMRE (2 years)
1, -
1, -
2, -
3.13
Radio therapy
MD (3 years), DMRE (2 years)
0, -
2, -
2, -
3.14
Surgery
MS (3 years)
3
8
11
3.15
TB & chest diseases
MD (3 years)*, DTCD (2 years)*
1, 1
1, 0
2, 1
Total
25
75
10
Unrecognized by Medical Council of India ( TRAINING FACILITIES )
S.No.
Departments
Training facilities
1.
Non clinical departments
1.1.
Human Anatomy
Undergraduate teaching:
Classes and demonstrations are organized for first year MBBS students
1.2.
Biochemistry
Undergraduate teaching:
Classes are demonstrations/practical classes are organized for first year MBBS students
Provision of summer training of P.G. students
1.3.
Forensic Medicine
Undergraduate teaching:
Classes are demonstrations are organized for MBBS students
Medicolegal work for PMS officers (proposed)
Medicolegal work and training for interns
1.4.
Pharmacology
Undergraduate teaching:
Classes are demonstrations/practical classes are organized for MBBS students
Post graduate training
1.5.
Human Physiology
Undergraduate teaching:
Classes are demonstrations/practical classes are organized for first year MBBS students
Post graduate training
2. Para clinical departments
2.1.
Microbiology
Undergraduate training
Postgraduate training
2.2.
Pathology
Undergraduate training
Postgraduate training
Laboratory Technician training
2.3.
SPM
Undergraduate training:
posting at urban health center and rural health training center
Field visits for undergraduate students
Postgraduate training: Post graduate diploma in community health;
Internship posting at urban health center, immunization clinic and rural health training center
3. Clinical Departments
3.1.
Anesthesiology
Undergraduates
Ten lectures- classes; 15 days posting and ten short clinics in O.T.; 15 day posting for interns
Post Graduates (M.D., D.A.)
Seminars (2/week), Case presentation (2/week); journal club; Rotation Posting in Orthopedic Anesthesia, Cardiothoracic Anesthesia, ENT Anesthesia, Gen. Surgery, Urosurgery, Neurosurgery, Plastic Surgery, Ophthalmology, Gynaecology & Obstetrics, Psychiatry, Radiotherapy and Emergency Surgery.
3.2.
Cardiology
For PMS officers and staff nurses in CCU.
3.3.
Dental surgery
Training for undergraduate students in out patient department.
3.4.
Skin & VD
Under graduate teaching classes conducted. Post- graduate teaching seminars, Case discussions
3.5.
Medicine
Undergraduate training in clinical skills Clinical lectures – Demonstration Daily OPD
Postgraduate training
3.6.
Obstetrics Gynecology
Training Post graduates
Lapsrocopic sterilization
Gynecological Ultrasound
Midwives Training
Reproductive and Child Health
SIFPSA
3.7.
Ophthalmology
I.O.L. Training to P.M.S. Doctors
3.8.
Orthopedics
Undergraduate training in clinical skills
Clinical lectures – Demonstration
Daily OPD
Postgraduate training
3.9.
ENT
Undergraduate training
Post graduate training
Clinical lectures – Demonstration
Daily OPD
Journal Club, Seminars, Case presentation
Surgeries in collaboration with Ophthalmics/ Plastic surgery deptt.
Tumour clinic along with Surgery/ Radiotherapy/ Neurosurgery /Ophthalmology Deptt.
3.10.
Pediatrics
NALS
Neonatal care training
3.11.
Psychiatry
Undergraduate training in clinical skills
Clinical lectures – Demonstration
Daily OPD
Postgraduate training
3.12.
Radio diagnosis
X-Ray Technician (Radiology)
3.13.
Radio therapy
Radiation safety training of Hospital Radiation
3.14.
TB & chest diseases
Two research projects every year for MD
Bronchoscopy
Pleural aspiration
Intercostal Tube Insertion
Internship Training
Microscopy centre for DOT (RNTCP)